Game of Life - Idee sperimentazione con i TribeBots
Added by Moreno Petrucci almost 8 years ago
Prendendo spunto dall'automa cellulare sviluppato dal matematico John Conway [[https://it.wikipedia.org/wiki/Gioco_della_vita]] con il quale è stato creato "Game of Life", si vuol cercare di dare ai TribeBots dei simili comportamenti, simulando interazioni tra corpi che nascono e muoiono a seconda di particolari posizionamenti.
La logica di funzionamento di Game of Life, applicata ai TribeBots, è la seguente:
- un TribeBot nasce (comincia a muoversi), solo se ha tre TribeBots vicini;
- un TribeBot rimane vivo, quindi si muoverà per conto suo casualmente, solo se ha due o tre TribeBots vicini;
- un TribeBot è nello stato di "morto" se ne ha meno di due o più di tre vicini di TribeBots;
di seguito si riporta lo schema di funzionamento dell'Automa Cellulare Booleano.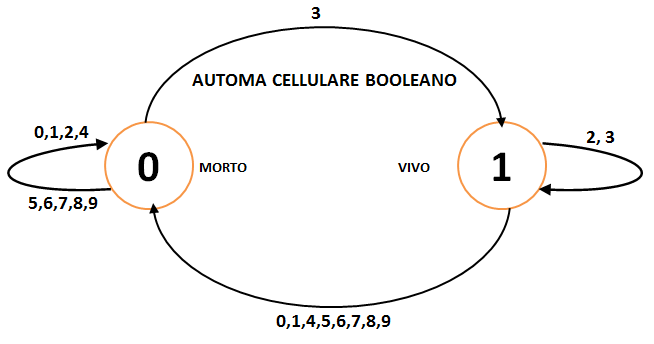 Replies (2)
Dalla riunione del 25.08.2015 si è pensato di far assegnare in maniera autonoma ad ogni TribeBot un numero casuale, in modo da identificarsi univocamente, per poi fare la logica secondo l'automa cellulare booleano.
(1-2/2)